Defining Factors in Sealing Applications

Reduce the clearance between components.
Reduce the tolerances of the components.
Use a larger cross section seal to absorb the extra tolerance.
Increase the seal squeeze (which will also increase friction).
Improve component alignment and support to reduce the eccentricity.
Choose a seal configuration and material designed to withstand the anticipated pressure.

Make sure the clearance between adjacent surfaces is appropriate for the hardness of the material. Clearance should be minimized and must not exceed recommended limits for the rubber hardness.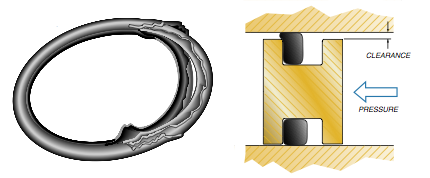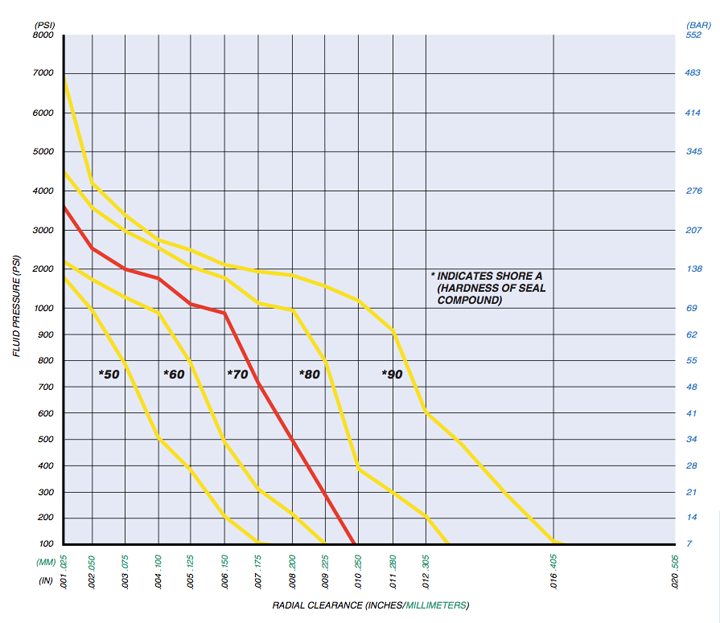 This chart has been developed for seal cross-sections of .139" and larger. Smaller cross-section seals require less (tighter) clearance.
This chart is for applications in which the piston and bore are concentric. Radial clearance must be reduced in those applications with severe side loading or eccentric movement.
The data in this chart are for seals which are not using anti-extrusion back-up rings.
The data in this chart are for seals at room temperature. Since rubber becomes softer as temperature increases, clearances must be reduced when using seals at elevated temperatures.
The maximum permissible radial clearance would include any cylinder expansion due to pressure.