Bondwand
The hand-held or bench top mountable Bondwand emits the highest UV intensity of any comparable lamp on the market. The Bondwand employs a built-in, variable exposure timer of one, two, and three minute intervals as well as continuous and is an ideal tool for research and production applications. The Bondwand delivers 10mW/cm ² of controlled ultraviolet energy at a peak wavelength of 350nm or at 450nm visible cure. When using an available Black Light Lamp the Bondwand becomes an excellent and highly effective NDT inspection device for boards, welds and plastics.
Specifications

UV Intensity: 10 mW/cm2 @ 350nm
Input V/W: 120V 50/60Hz, 12 W
Exposure Area: 5" x 1 3/4"
Electro-Cure-410 UV Spot System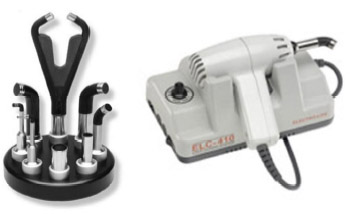 The compact and rugged design of the EC-410 makes it the ideal wide spectrum spot curing system used to resolve a number of assembly applications in the electronic, medical device, and telecommunications industry in either repair shop or online. With its lightweight 10ounce hand-piece, and 360 degree swiveling light guide, the EC-410 will resolve the most complex, geometrically challenged application.
Specifications
UV Intensity: 90 mW/cm2 @ 365nm
Input V/W: 120V, 220/240V 50/60Hz, 75 W
LED-100 UV Spot System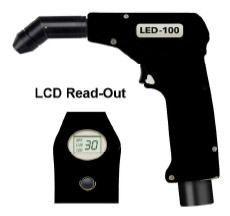 The LED-100 is a UV curing system powered by an advanced Light Emitting Diode (LED) with an output of 1 w/cm2. This compact, hand held unit operates from a batter and is completely portable. An ergonomically positioned trigger switch allows comfortable operation while its compact size allows bonding difficult areas to reach. The microprocessor provides accurate control of timing functions and an LCD display shows operational status. This light, easy-to-use, advanced design is an excellent approach to solving bonding problems in manufacturing, field service repair and research and development.

Specifications:
UV Intensity: 1 W/cm2 @ 365nm
LED life: 50,000 hours
Battery Charge 900 - 10 second exposures
Weight: 12 oz. Battery powered
Electro-Cure-5 UV Spot System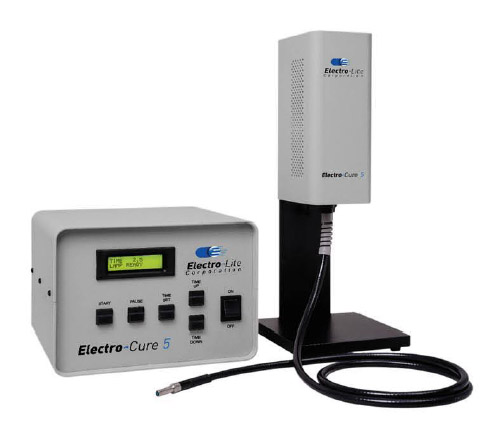 The EC-5 microprocessor-based light curing system is perfect for clean room use, yet rugged enough to be an asset in the industrial environment. For increased application flexibility, the EC-5 will accept any liquid light guide or a standard fixed quartz light guide. The EC-5 is the right choice for the precision delivery of UV light energy in a spot form. For Curing light coatings, adhesives, epoxies, or potting compounds that require high power, the EC-5 is the affordable choice that does not compromise on power and reliability.
Specifications:
UV Intensity: 6 W/cm2 @ 365nm
Lamp: 50 W short arc mercury
Lamp Life: 1000 hrs. functional tome
Panel display: LCD

Electro-Cure-10 UV Spot System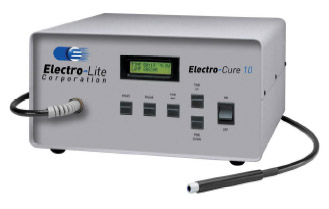 The EC-10 delivers the most UV curing power you will find in any spot curing system in its price range. The system is equipped with a rotary electro-magnetic shutter, digital electronic timer selectable in steps of .1 to 999.9 seconds as well as continuous. The front panel controls may also be used to vary the light output from 50% to 100% for precise power control. The system's LCD high contrast panel clearly displays lamp ignition, lamp ready, exposure time, lamp hours and lamp change status. The EC-10 is an excellent choice where accuracy, repeatability and dependability is needed in any validated production process.
UV Intensity: 10 W/cm2 @ 365nm
Lamp: 100 W short arc mercury
Lamp Life: 1000 hrs. functional time
Panel display: LCD
Electro-Cure-4001 UV Flood System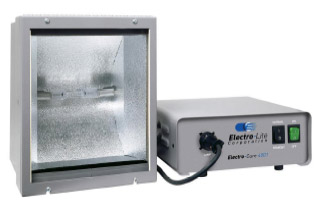 The ELC-4001 flood curing system generates greater than 180 mW/cm2 of UV energy at a peak wavelength of 365nm. Its versatile modular design answers industries needs for increased productivity, lower energy costs and an end to pollution emissions. Whether housed in the optional height adjustable curing frame or integrated into an automated manufacturing process its compact design offers a simple solution to high volume production.
UV Intensity: 125 mW/cm2 @ 365nm
Input V/W: Auto-ranging 90V AC- 264V AC, 50/60Hz

Electro-Cure-500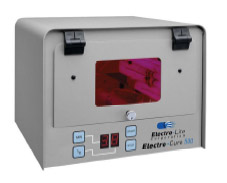 The EC-500 is a completely contained, operator safe, light exposure system, powered by four UVA - 350nm lamps for the photo activation of UVA light curable materials. The system is available with 450nm or black light lamps. The EC-500 features a digital countdown programmable timer, power down mode, safety interrupt chamber switch, and an audible end signal. The system also features a clear rotating turntable and clear shelf enclosed in a highly reflective exposure chamber that maximizes completely full exposure.
Specifications
Radiant Intensity: UVA-365nm, Visible-450nm, Black Light 350
Input V/W: 120V/ 50/60Hz 1.5A, 220/240/ 50/60Hz
Chamber Area: 7.5" W x 8" H x 8.75 " D

Light Guides
| | |
| --- | --- |
| | Electro-Lite light guides are manufactured of high efficiency image grade fused glass. These light channeling devices are interchangeable accessories for use with the EC400, EC403, EC404, EC405, EC410 and EC-410-T. |
Opilux
Optilux protective eyewear is certified to completely filter out harmful light wavelengths from 200 to 540 nanometers, providing complete blockage of the ultraviolet spectrum while providing excellent visibility in the balance of the visible spectrum. Available in clip on, standard frame, and side shield styles, Optilux protective eyewear is impact resistant and is certified to meet the requirements of ANSI Z87.1.
Adhesives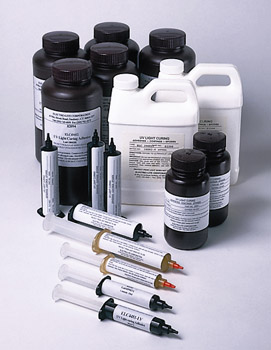 Electro-Lite curable UV adhesive materials represent a new dimension in light curing technology. The one part adhesives are solvent free, containing only reactive components. A highly cross-linked polymeric matrix results on curing without evaporation or the out gassing of volatiles.