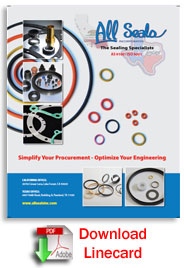 All Seals Incorporated
The Sealing Specialists
20762 Linear Lane
Lake Forest, CA 92630
Phone: (714) 556-4931
Toll Free: (800) 553-5054
Fax: (714) 557-3257


Gaskets
- Offers excellent tolerances and cut quality. More info about our Water Jet Cutting Service...


- Most commonly used for moderate volume parts. Tooling is economical and can be used in platen presses, roll presses, mechanical presses or rotary die machines.


- Generally used in high volume production where very close tolerances are required. Tooling is more costly but generally longer lasting.

Bell Jar Gasket

Bell jar and cylinder gaskets have an "L-shaped" cross-section. The bell jar sits inside the riser of the "L" and is sealed by atmospheric pressure pushing it down onto the horizontal surface. The lower side of the horizontal surface creates a vacuum-tight seal against the sealing surface (usually a baseplate, service well, or feedthrough collar). More information about Bell Jar Gaskets, click here!