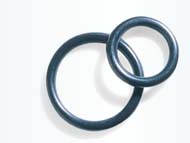 Kalrez® o-rings made from standard compounds are available from stock in the factory in standard AS-568A, metric and JIS sizes. It takes us 3-4 days to obtain the o-rings from the factory.
Metric O-ring sizes are normally not inventoried. Orders for quantities, sizes and compounds not in inventory will be placed and committed to within standard manufacturing lead times. Please call us for current inventory status and estimated shipment dates.
Customized cross-section and diameter dimensions are available for shipment to us from our factory in just five working days. We make them to your order using our patented o-ring splicing technology. Most Kalrez® QS spliced o-rings have a manufacture time of just five working days not including packaging and shipping. UltraPure compounds for reduced contamination requirements need an extra five days.
Custom shapes are designed and molded to your specific requirements. Typical custom shapes include valve seats, diaphragms, gaskets, packer seals, T-seals, column fittings and more.
Custom parts and components with unusual geometries can be designed and molded in Kalrez® perfluoroelastomer parts to meet the needs of specific sealing applications. Examples include special profiles and rectangular-shaped seals for slit valves and windows: metal-bonded parts, profiled quartz tube seals, diaphragms, lip seals, hollow o-rings, tubing and other specialized configurations.