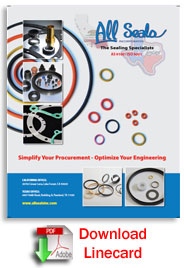 All Seals Incorporated
The Sealing Specialists
20762 Linear Lane
Lake Forest, CA 92630
Phone: (714) 556-4931
Toll Free: (800) 553-5054
Fax: (714) 557-3257


O-Rings

There are several different standards to choose from when it comes to O-ring dimensions. The most popular in the United States is the AS568 standard for O-ring sizes and tolerances. Maintained by the Society of Automotive Engineers, this standard allows the user to choose from five different cross-sections with inside diameters ranging from 1/32" to 26". Tube fitting boss seals are included in AS568 as 900 series O-ring sizes, and are intended for use in MS33649 (now superseded by SAE-AS5202) straight thread tube fitings.

All Seals also offers a wide array of metric sizes, in both standard and non-standard dimensions. As a subset of the metric sizes offered, we also stock many Japanese Industrial Standard (JIS B2401) sizes. If an O-ring with special size or fluid resistance is required, All Seals can provide custom O-rings, specially made to your demanding requirements.

Related Products

FEP Encapsulated O-rings are solvent resistant and chemically inert (except for attack by alkaline metals, fluorine and some halogenated compounds at high temperatures) yet have an elastomeric memory near that of rubber O-rings. FEP polymer, also, has an extremely low coefficient of friction (.1 to .2) and very low permeability to gases, making CHEM-RINGS a virtually universal seal for use in hostile environments.




Extrusion failure is one of the most common types of O-ring failure. When the internal pressure of an application becomes too great, the O-ring will actually extrude into the clearance gap. This extrudate will quickly be nibbled away causing a loss of material, and once sufficient material is lost, seal failure will quickly follow.

There are three options to prevent this, the first of which is to reduce the clearances to lower the extrusion gap. This is obviously an expensive option, so a cheaper solution is to raise the durometer of the O-ring. Although, a higher durometer O-ring offers superior extrusion resistance, is often not feasible solution due to material availablilty, and to the fact that harder durometer materials have limited low pressure sealability. The last and best option is the addition of a backup ring. A backup ring is a ring of hard, extrusion resistant material such as high durometer nitrile, nylon, Hytrel, or PTFE. A back-up ring is designed to fit between the O-ring and the extrusion gap and prevent the extrusion of the O-ring.

While back-up rings are used in conjunction with O-rings in both static and dynamic sealing applications, the gland they fit in must be specially designed to fit both the O-ring and the back-up.